Touching ground
in Dar Es Salaam
July 1, 2019
Catherine Vogel, Valentin Kruspel

Did you know
... that roughly 10% of Tanzania's population live in Dar es Salaam?
... that the current population is expected to rise up to 16 million people by 2050?
... or that Dar es Salaam has one of the most diverse traffic systems in Africa, where people can choose between a great variety of different modes of transport?
... that on average city dwellers already nowadays may be stuck in traffic for up to 2.5 hours every day?
Given the overall population growth patterns and the already challenged and congested state of the city's transport system, it is crucial for policy makers and mobility planners to undertake steps aimed at designing and creating a more sustainable, effective and inclusive transport system in the city that aligns the metropolis' mobility sector with the city's overall trajectory of growth. And did you know that data in its various forms can play a crucial part in helping to make this happen?
All of the above makes this vibrant and exciting city an ideal place for a Data Lab experiment. Our activities are aimed at supporting policy makers and mobility planners in their endeavour to design and implement a sustainable, effective and inclusive transport system in Dar es Salaam. After a number of brainstorming sessions and prepatartory meetings, we were able to kick-off our activities with a highly productive two-day workshop in Dar es Salaam on June 13-14 2019.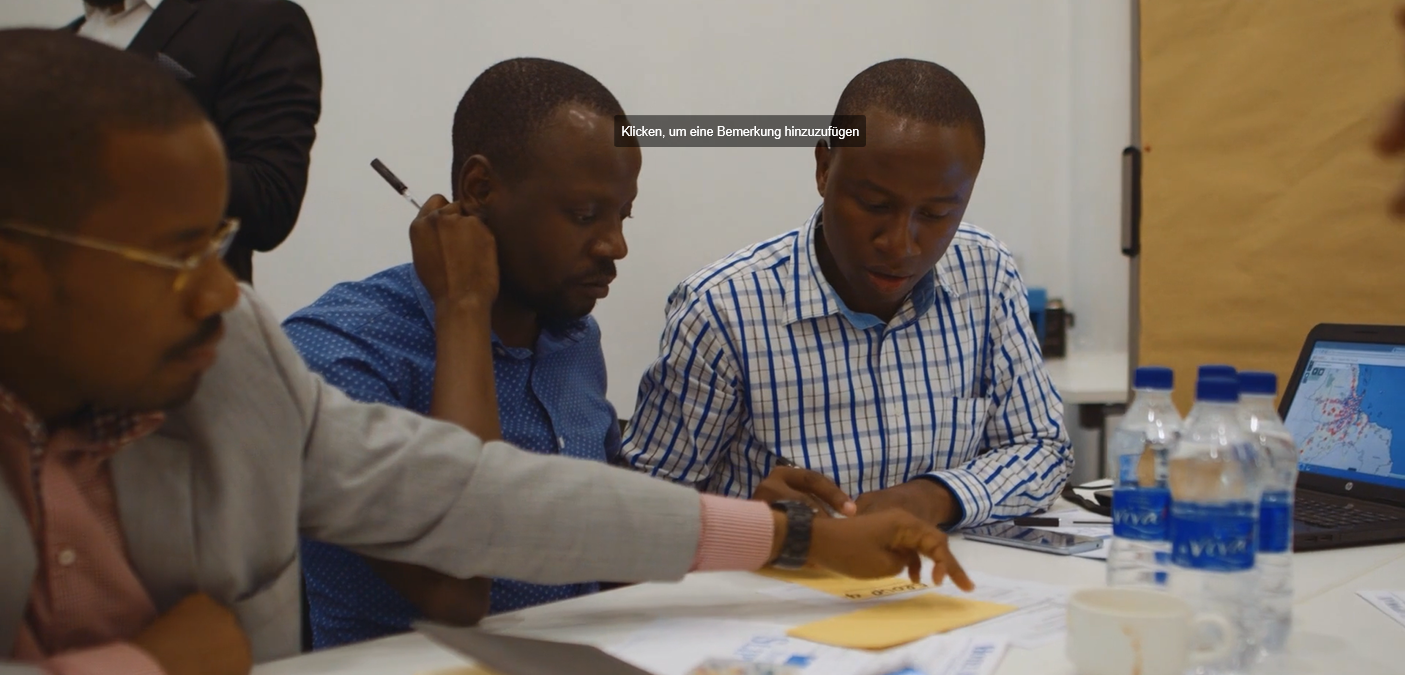 We are thrilled to collaborate with the Space Enabeled Research Group at the Massachusetts Institute for Technology, colleagues from the Transformative Urban Mobility Initiative (TUMI) sponsored by BMZ and our local partner the Dar Rapid Transport Agency (DART) in this endeavor. Together with two aerospace engineers, specialized in the use of satellite technology to achieve the SDGs, mobility experts from TUMI and and DART we conducted our two-day workshop with the aim of identifying main challenges and opportunities and defining the overall scope and next steps of our activities.
An impressive number of key stakeholders from both the formal and informal transport sector in Dar, representatives from the city council, as well as academics and mobility experts from other African cities attended and we were able to witness a highly mutual learning process! Participants learned about the possibilities of satellite technology for the mobility sector. In particular they were introduced to the potential use of three different types of satellite technologies: Earth observation, Global Navigation and Positioning (GPS) and the use of Call Detail Records or Mobile Communication. The Data Lab and the wider experiment team was also able to learn a great amount and gain crucial insights: Next to being informed about the diversity and complexity of Dar es Salaams sprawling and highly dynamic transport system, we learned a lot about what type of (digital) data is already available and used in the transport system in Dar es Salaam. Furthermore we were able to better understand what the challenges and opportunities are and what type of requirements and wishes local stakeholders have for a potential integrated data platform.
At the end of the workshop a number of next steps were defined. It was decided that the experiment team around the Data Lab team, our colleagues from TUMI, DART and the Space Enabled Research Group would develop an integrated data visualization tool that incorporates different dara sets.The workshop participants furthermore decided, that another key step was to attempt to integrate local data into the prototypical visualisation tool, as this type of data holds the key to customizing the data to address challenges identified by the local stakeholders during the event. Once the first iteration of the prototype is finished, another event will be held in Dar es Salaam, in which the status quo will be presented. Based on this presentation further gaps can be identified and the visualization tool can further be refined.
The Data Lab Team wants to thank all participants for their inputs an their creative energy. We are looking forward to conducting this experiment with you and are excited to present preliminary results in a follow up workshop in Dar es Salaam.